The Estate
An historic estate standing at the forefront of South Africa's wine renaissance.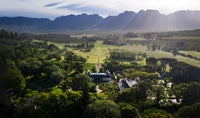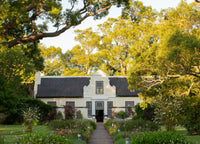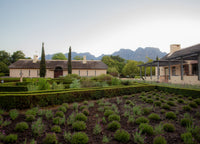 One of South Africa's most impressive wine estates, Vergelegen is an astonishingly picturesque and historic wine farm situated on hillside vineyards south of Stellenbosch, extending over 3000 hectares, from the banks of the Lourens River to the rock faces of the Hottentots Holland Mountains.
Vergelegen, meaning "situated far away", was granted to the Governor of the Cape of Good Hope (Willem Adriaan van der Stel), in 1700, and the property has had a long and fascinating history, ever since. 
The cultural heritage of the Vergelegen Estate is set in the pastoral tranquility of extensive gardens and grounds; with the Homestead and associated buildings providing a layered historicism of the 321 years of Vergelegen's existence. 
Today this most prestigious and awarded wine estate stands at the forefront of South Africa's wine renaissance. In keeping with founder van der Stel's original vision, Vergelegen is indeed a model estate of global repute, producing distinctive wines that are world class in terms of craftsmanship heritage and quality.
The focus from the outset has been on producing a luxury wine brand, and the flagship red Vergelegen V is one of the region's most impressive and expensive wines. 
Vergelegen Estate has won over 200 awards, and has twice won the coveted Château Pichon-Longueville-Comtessede-Lalande Trophy, for best red blend.
Proof indeed, that Stellenbosch and the Western Cape can produce wines to rival the best of Bordeaux.