THE WINEMAKER
Meet Luke O'Cuinneagain, Andre Van Rensburg's Successor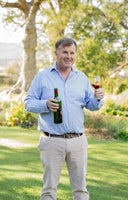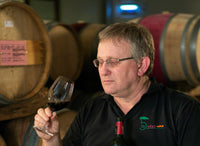 VCLUB welcomes new Vergelegen winemaker Luke O'Cuinneagain 
The wines of a great estate evolve over decades, even centuries, reflecting the intricate blend of terroir, cultivar, sunshine and rain that result in a revered reputation. At the heart of this process lie the knowledge and creativity of the resident winemakers, who conduct the complex undertaking which culminates in wine of the calibre so enjoyed by members of the VCLUB.
Each individual winemaker fits into a larger picture, drawing on the groundwork  laid down by their predecessor, and working with viticulturists and other members of the winemaking team to support future vintages.
Vergelegen, now 322 years old, has enjoyed great winemaking continuity with the services of Martin Meinert (1989-1998) and André van Rensburg (1998-2022). 
André recently passed on the Vergelegen winemaking baton, but during his  35-year direction, the estate enjoyed a superb  reputation for outstanding vintages. 
Prior to taking over from Martin, André gained experience at Saxenburg, Warwick, Neethlingshof and Stellenzicht wine estates in South Africa. André's ongoing wine education included a period at California's Harlan Estate during 2006, which included working during the harvest.
Multiple awards attest to his talent. Early international acknowledgement included two Pichon trophies at the International Wine and Spirit Competition for the best red blend in the world.  
Recent recognition came at the 2022 UK International Wine and Spirit  competition, where South African wines accumulated more gold medals than any other country, including France. The Vergelegen GVB Red 2015 was one of only three South African wines in the 97/100 category, while the Vergelegen GVB White 2020 was prominent in the 95/100 category.
For the past few weeks, the multi-levelled cellar at Vergelegen, with its stupendous 360˚ views, has been the domain of incoming winemaker Luke O'Cuinneagain. Luke was previously the acclaimed winemaker at French-inspired Glenelly Estate in Stellenbosch where, from 2008, he produced wines recognised for their power, elegance and balance. 
With a B.Sc. Agric. (Viticulture and Oenology) Honours from Stellenbosch University, Luke initially gained experience at Rustenburg Estate for five years. He also learnt from international winemakers at Château de Fieuzal  and Château Angelus in Bordeaux, Caves Robert Dietrich in Alsace, and Screaming Eagle in California.  
Luke's appointment followed a rigorous recruitment process over several months, undertaken by an independent panel of wine experts. The initial total of 29 applicants, which included leading names in the industry, was whittled down to six contenders. 
We at VCLUB are in the fortunate position to enjoy access to limited editions of Andre's wines, which display superb winemaking prowess with every vintage we uncork. Additional wines which André has produced will continue to be released over the next six to seven years, 
We are doubly delighted that we can look forward to tasting Luke's Vergelegen wines as early as next year. Both Vergelegen and Glenelly have built their reputations on environmental sustainability and Bordeaux-style wines. Common attributes are a focus on making wine as naturally as possible, with minimal intervention.
VCLUB wishes André, an industry giant, the best in all his future endeavours. We also extend a warm welcome to Luke, who brings with him a sterling reputation, and look forward with great anticipation to enjoying the fruits of his transition to Vergelegen.